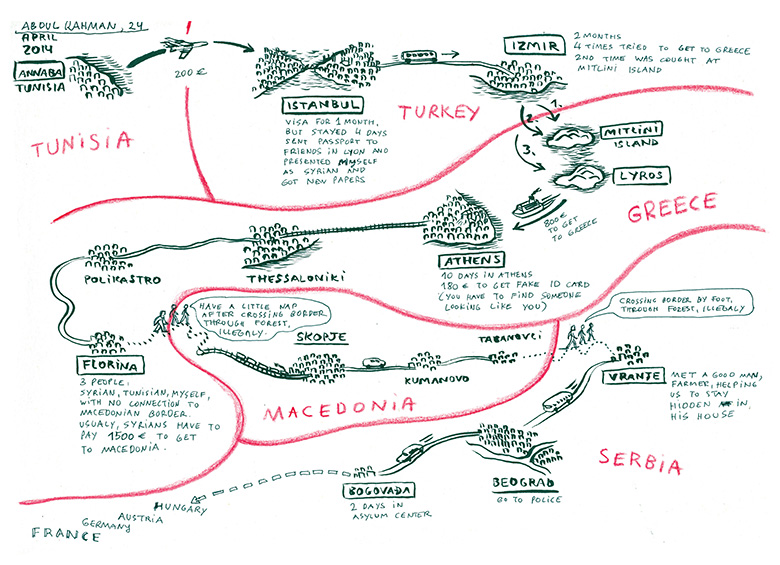 In 2013, Group 484 invited several artists to work with asylum seekers in an asylum centre near the village of Bogovadja, near Valjevo. At that time, the number of migrants in Serbia was not nearly as large as it is today. The issue of migration, except in the narrow circles of activists and individual organisations, was neither
visible nor topical. In Bogovadja we met people from Afghanistan, Pakistan, Somalia, Eritrea, Guinea, Senegal,
Syria while they were spending days in the centre, reporting to the police station upon entering Serbia
illegally and expressing their intention to seek asylum.
We did not want to frame people as victims, avoiding the prism of humanitarian paternalism which is often the
basis of art projects, but as courageous people who, by the very fact that they had decided to set out on such
a journey, made a radical change in their life – fleeing war, conflicts and poverty. We were interested when,
how and where they had been travelling before we met them. We asked why they had embarked on such a
journey, what troubles they had survived, how they had crossed borders, what their experiences were
with police and people in the countries they had passed through.
Together we sketched maps, piecing together their routes, which in some cases had taken up to 7 years.
Sometimes the maps lack detail or are unclear, and sometimes they would skip parts of the journey.
We wanted to show their routes factually, and thus draw attention to Europe's inhumane
asylum policy | Djordje Balmazovic, Škart
– See more at: http://theoccupiedtimes.org